All Chiropractic care will be handled under the direction of Dr. Tanya M. Dobrzanski BSc, DC, CAC who completed her doctorate at Palmer College of Chiropractic West in 2007 and is a member in good standing of several Chiropractic associations including the Canadian Chiropractic Association and the Alberta College and Association of Chiropractors.  She specializes in Gonstead Chiropractic and supplements this care with several other techniques including extremity adjustments, Active Release Therapy, Kinesio Taping, Erchonia Cold Laser Therapy, Neuromuscular Facilitation and more.
Dr. Tanya M. Dobrzanski
"I started my chiropractic journey as a teenager, when a fall injured my neck. After suffering needlessly for a few months with almost constant neck pain, I began to see a chiropractor. I was amazed at how quickly I felt better, and how many other ailments were helped with regular chiropractic care. I decided at the age of 16 that chiropractic was the life for me. I attended the University of Calgary, where I received my Bachelor of Science degree. Throughout my University career, I remained active, running, playing tennis, skiing and playing fastball with the University of Calgary Dinos Women's Fastball Team. I continued to receive regular chiropractic care, which kept me functioning to my best potential while under the stresses of University life.
"Then the time came to move to California and study chiropractic. At Palmer College of Chiropractic West, I could not get enough chiropractic. I attended every club on campus and quickly became the president of a number of clubs, including the Gonstead Technique Club and the Canadian Chiropractic Club. I was also a member of the Palmer West Sports Council, the largest sports chiropractic organization in the world. It was there that I became fascinated with how chiropractic, and the proper alignment and movement of joints and muscles, could help an individual optimize their performance in all facets of their life.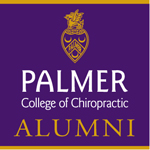 "After practicing in California for a year, I returned to my beloved Calgary and began working as a chiropractor in downtown Calgary. I continued to practice and perfect my skills as a chiropractor and added other techniques to my practice, including Active Release Technique, Kinesio Tape and Erchonia Cold Laser. I had the privilege to return to the University of Calgary Dinos Fastball team, and provide my assistance as coach and team doctor. It is now my privilege to provide chiropractic care for individuals from all walks of life; from 0-100, athletes to desk jockeys, and everyone in between. I look forward to using my skills as a chiropractor to analyze the body as a whole, and find the right combination of care to help you on your journey of natural health care and optimum performance.
"When I am not in the office, I can still be found doing one of the many sports I love, or with my beloved pups and Turn 2 Chiropractic's office mascots, Yogi , Taz and Dizzy.
"So here's to living the life you love. I look forward to seeing you and your family soon."
Education:
University of Calgary, Bachelor of Science
Palmer College of Chiropractic West, Doctor of Chiropractic
Veterinary Chiropractic Learning Centre
Professional History:
2007 – 2008 Alternative Health Care Center
2007 – 2008 Athens Chiropractic Clinic
2009 – 2011 Downtown Integrative Health Group
2010 – 2012 The Athlete Factory
2010 – Present Turn 2 Chiropractic
Professional Associations:
2004-Present Member, California Chiropractic Association
2007-Present Member, American Chiropractic Association
2008-Present Member, Alberta College and Association of Chiropractors
2008-Present Member, Canadian Chiropractic Association
2017-Present Member, College of Animal Chiropractors
Publication:
Call 403-460-4945 to book your next appointment